SUMMER OPEN WEEK 19-24 JUNE
Posted by CCNurseries
30 May 2023
3 min read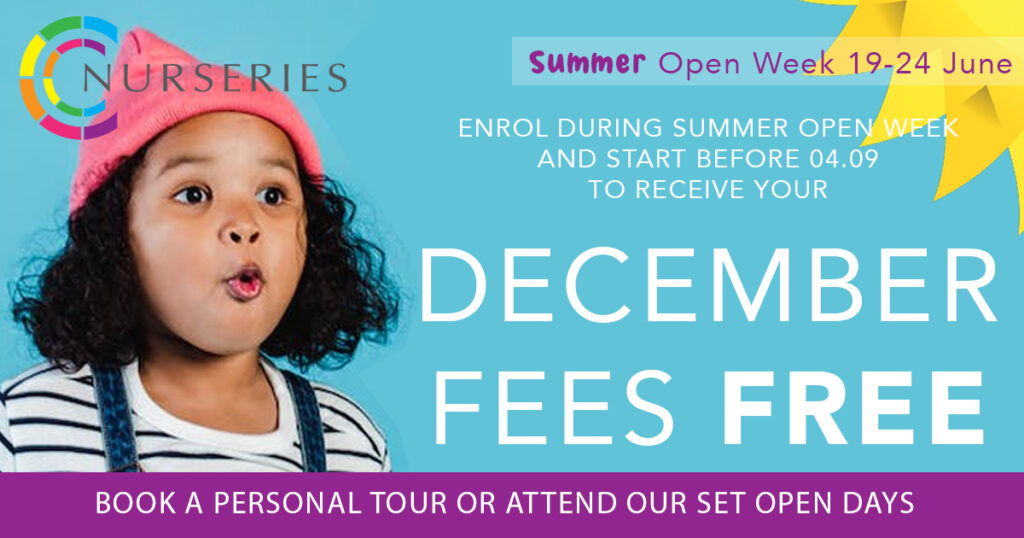 WE'RE OPENING OUR DOORS ACROSS SUMMER – WITH A FANTASTIC NEW OFFER FOR PARENTS
CC Nurseries settings are hosting an open week across 19-24 June, with a fantastic summer offer up for grabs:
ENROL AT ANY CC NURSERIES SETTING DURING OPEN WEEK AND BEGIN BEFORE 4 SEPTEMBER TO GET YOUR DECEMBER FEES FREE!
Interested parents will be able to visit our Nurseries to take a tour of the setting, meet our teams and find out more about what we're all about – from our new daily curriculum clubs, to our love of nature and the outdoors.
Our teams will be on-hand to answer those important early years questions, and we'll be able to discuss your childcare requirements, too.
HOW IT WORKS:
Open day (Saturday 24 June, 10am-1pm)
Our open days will be held on Sat 24 June and give you the opportunity to see us in action. You'll meet team members, tour our setting and be able to ask those all important questions about our setting and how it could work for your family. Sign up for our open days via the Eventbrite website at https://www.eventbrite.co.uk/manage/collections/2195669/events
Alternatively, reply to this email.
Open evenings (20 and 22 June, 6.15pm-7.30pm)
Need to visit us after work? You can choose to drop-in at one of our two open evenings of the week. Our teams will be on hand to answer your questions and show you around. Please let us know you're interested in coming by replying to this email.
CHOOSE A TIME TO SUIT YOU (Personalised tours)
Want a more personalised experience? You can choose instead to book a tour to suit you across the week (or at any point).Simply respond to this email to get booked in. Limited space available.
WHY A CC NURSERIES SETTING?
We have an exciting new curriculum for 2023, with daily clubs running in art, nature, life skills, science and fitness.
Our menus are nutritional and change with the seasons.
Meals, snacks, formula for infants, nappies and trips are ALL INCLUDED in our fees.
We have a real outdoor focus, with secure garden spaces at all of our settings.
We have excellent community links.  
Want to know more? Read real parent reviews here: https://www.daynurseries.co.uk/day_nursery_search_results.cfm/searchgroup/65432235180#reviews
We look forward to meeting you soon!
SIGN UP TO ONE OF OUR OPEN EVENTS – HELD ON SAT 24 JUNE 10AM-1PM:
Beaumont House Day Nursery – Twickenham, TW1 >> https://bit.ly/3BTXaFm
Pump House Day Nursery – Brentford TW8 >> https://bit.ly/3q9GvLn
Marston Day Nursery – Bedfordshire, MK43 >> https://bit.ly/434NCD5
Wendover Day Nursery, Aylesbury, HP22 >> https://bit.ly/3q7kug6
Pied Piper Nursery, Glasgow G41 >> https://bit.ly/3WtOxL2
The Murrayfield Nursery, Edinburgh EH12 >> https://bit.ly/3BTyJrj
Peek-a-boo Nursery, Edinburgh EH4 >> https://bit.ly/426Tz10