CC NURSERIES LAUNCHES NEW 'CURRICULUM CLUBS'
Posted by CCNurseries
10 February 2023
2 min read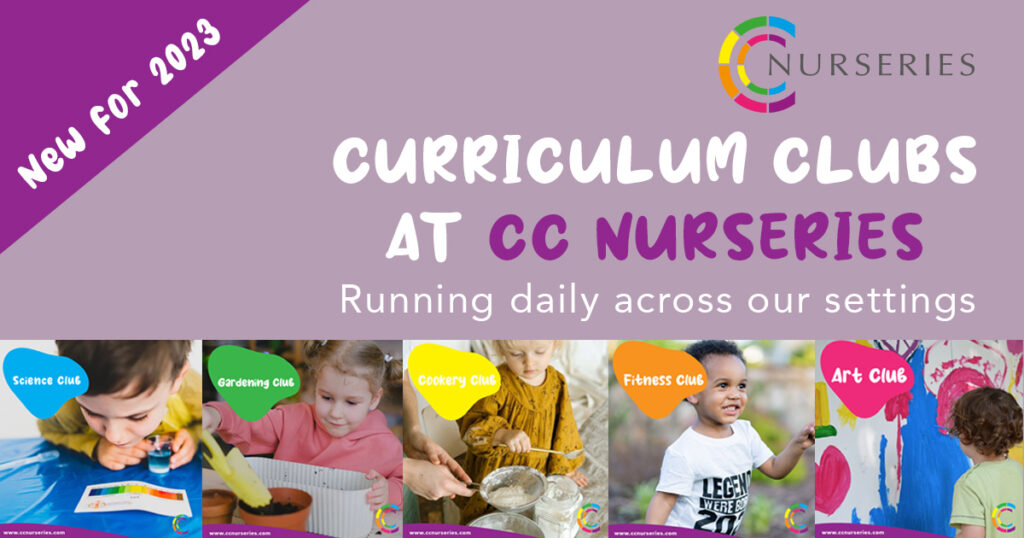 CC Nurseries Group is pleased to introduce a number of extra-curricular clubs across each of its nine Nursery settings, which will run daily to enhance the educational opportunities already on offer to current and prospective children.
Designed and led by our qualified teams of practitioners, the clubs will rotate on a five-week rolling plan which will ensure all children attending the setting will benefit from the variety of activities available. Parents are also welcome to book additional sessions at the Nurseries where available.
The clubs, which will include science, gardening, food and nutrition, fitness and art, will be adult-led sessions and will feature content appropriate for each age and stage of development and follow the talents and interests of individual children.
Children will have the opportunity to partake in a range of enticing activities designed to spark curiosity and imagination, while introducing the curriculum across all ages, in new and interesting ways.
Activities will range in length and style, and will change weekly – and could include everything from sensory elements and messy play, to physical activities designed to strengthen fine and gross motor skills, as well as activities which promote health and wellbeing, to name but a few.
COO for CC Nurseries Group, Anita Wilden said:

"We are excited to launch our new curriculum clubs which have been specially designed to enhance the development, culture and well-being of our children and families.

"There will be a real focus on children being able to learn and search together; providing a hands-on approach to learning.


"Our priority as ever is to nurture and protect the health and well-being of our children and the addition of these expertly-led and planned activities will support and enhance what's already available to each child."
The first round of groups will begin from Monday 13 February, kicking off with Science Club.
Families will have the opportunity to keep up with what's happening each week, by logging into their Famly accounts online or via our social media channels.