Brentford Nursery celebrates GOOD rating
Posted by CCNurseries
28 June 2022
2 min read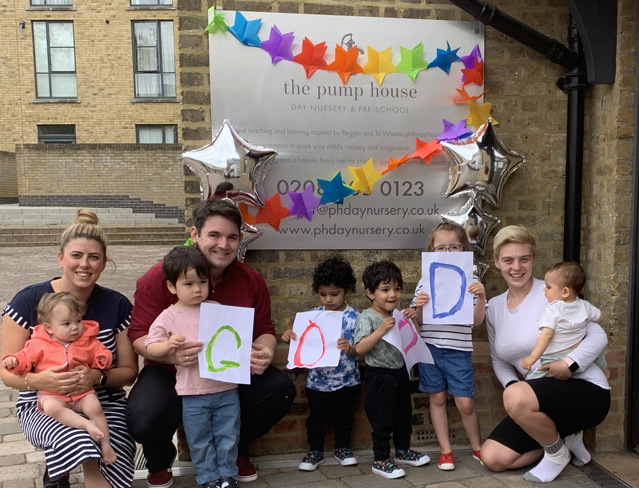 The Pump House Day Nursery in Brentford received their first Ofsted rating since opening, achieving Good status in all categories, following an official inspection.
The Nursery, situated on Pump Alley just off Brentford High Street, officially opened in 2018, with its first inspection delayed due to the Covid pandemic.
The inspection was carried out on Thursday 19 May, with inspectors praising the positivity and morale of the team, as well as the strong relationships between team members and children, and the nurturing Nursery environment, stating:
"Children thrive in this warm and nurturing environment. They benefit from the wide range of interesting and exciting activities which are planned based on their interests."
Safeguarding was also noted as effective, alongside the development of both communication and physical skills across all age ranges; highlighting regular yoga sessions within the Nursery as a benefit.
Nursery Manager Kay Johnson-King is pleased to have had the Nursery's efforts recognised and said: "We're thrilled to have achieved our GOOD Ofsted status, which is testament to the enthusiasm and dedication our teams put in each day to ensure our Nursery is a stimulating, safe and inviting environment, in which children can thrive."
"It's been a difficult few years for everyone, but this official rating and positive feedback just goes to show what can be achieved through hard work and determination."
Head of Nurseries Andrew Clifford said: "I am extremely proud of our teams at The Pump House.
"To see the children arrive and leave happy each day is proof itself of the brilliant care and nurturing they receive as part of their learning journey with us – and to have this officially recognised by Ofsted is brilliant. "
The Nursery also recently achieved Millie's Mark from Millie's Trust, which means 100% of team members are trained in paediatric first aid, giving further reassurance to parents that children are in good hands.
Pump House Day Nursery still has places available for children aged 12 weeks to five years. Interested parents can get in touch to book a personal tour of the setting at www.phdaynursery.co.uk and the full Ofsted report can be found at ofsted.gov.uk