Welcome to CC Nurseries…
Our award-winning day nursery settings can be found in Southern England and Scotland, and provide stimulating environments, exceptional care and incredible early childhood experiences which aim to spark imagination and curiosity in children, as they begin their learning journey.
Take a look around and discover more about our wonderful settings, our brilliant teams and our vision and values which put children at the heart of everything we do.
We look forward to meeting you and finding out more about your family.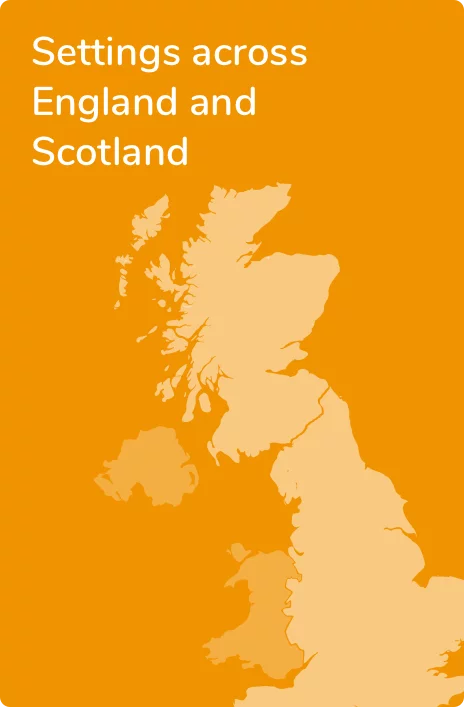 Discover our unique settings
What our parents say
"Within minutes of viewing the Nursery, we knew that it was the right place for our little girl. When I describe the nursery to friends and family, I say it looks like the kind of nursery you could only dream off."

Yasmin E, Marston Day Nursery

"My daughter absolutely loves going to Nursery. The activities are really varied and they have lots of outside time so we know she has had lots of fresh air during the day!"

Lucy A, The Murrayfield Nursery

"Compared to other Nurseries we have attended, the management is in our opinion, the best we have come across. Feel very glad to have found such a great Nursery and would recommend to children of all ages."

Heather F, Pied Piper Nursery

"Our son can't wait to go in Nursery and always comes out smiling at the end of the day. I was impressed by the Nursery from day one, and the team, communication and care given has been of a very high standard."

Steph P, Beaumont House Day Nursery

"Pump House nursery is full of fun, life and colour! The atmosphere and environment are always happy! I would highly recommend this nursery to any parent!"

Dovile G, Pump House Day Nursery

"The team are welcoming, friendly, experienced and very caring towards the children. A lovely, safe environment with lots of activities and a great outdoor area - parents receive regular updates on the children throughout the day. Highly recommend."

Nikki W, Big Bird Nursery

"Wendover Day Nursery is so refreshing! Unbelievable building and facilities, inside - and out! Friendly and welcoming staff, fantastic communication from dedicated room teams and management."

Alex N, Wendover Day Nursery
What's happening across our settings
We are a passionate, diverse team
Our dedicated colleagues each bring a rich mix of life experience, passion and qualifications to the our Nurseries.
We're always investing in our teams and are pleased to offer quality in-house training, including annual safeguarding, as well as external opportunities, from Millie's Mark to Jigsaw's Impact Award.
Career Opportunities
Investment Opportunities
"Our teams create incredible provocations based on the children's interests which means no two days are the same."

Emilie George, Deputy Manager, Wendover Day Nursery
Building stronger parent communication
Having an honest and open relationship with our parents is key to our success.
We're pleased to be working with Famly to provide our parents with an opportunity for two-way communication with our Nurseries and teams via a handy electronic app. Our current families regularly comment on the benefits of knowing their child is safe and happy throughout the day.
Receive daily updates and reminders

Get in touch with our teams

Report sickness and absences instantly
Contact us for more information.